Our Doctors
Our male and female Doctors aim to maintain, diagnose and treat our clients in a professional, confidential and culturally safe manner.
FIND OUT MORE
Preventative Health Checks
Having a regular health check has a direct health benefit as early detection can save lives.
Referrals
Yulu-Burri-Ba collaborates with a team of professional and dedicated specialists. Referrals are available through our Doctors.
Vaccinations
Yulu-Burri-Ba provides vaccination services including annual flu vaccinations. Vaccines can prevent or improve infectious disease.
Immunisations
Yulu-Burri-Ba provides immunisations to prevent children from becoming ill with unpleasant and serious infectious diseases, which have a risk of complications and long-term side effects.
Aboriginal Health Workers
Yulu-Burri-Ba has professional and dedicated Aboriginal Health Workers connecting our community to our clinics.
Dental
Yulu-Burri-Ba has 3 fully equipped and functioning dental rooms, 1 located at the North Stradbroke Island clinic and 2 at the Capalaba clinic. All clients can access this service at both locations and transport can be provided.
Nursing Services
Our professional and caring Nursing teams ensure our clients are receive exceptional care by screening clients before seeing their Doctors.
Women's Health
Yulu-Burri-Ba offers women's health clinics and other services for women to access confidential specialised care. Female Nurses and Doctors are also available.
Chronic Disease Management
Yulu-Burri-Ba provides planning and coordinated health care of clients with chronic or terminal medical conditions, including patients with these conditions who require multidisciplinary, team-based care.
Pathology Services
We have a pathology room and experienced on-site Phlebotomists.
Transport
To ensure our clients can safely attend their appointments, Yulu-Burri-Ba provides transport to and from appointments at our clinics. Transport services to other health appointments at hospitals or specialists are also available.
Care Coordination
Yulu-Burri-Ba has a dedicated Care Coordinator employed at each clinic to provide assistance and on-going management of care for clients with complex needs.
Social Health
Yulu-Burri- Ba's Social Health program focuses on building the capacity of individuals and families to improve functioning and well-being through ongoing, targeted, case-managed services providing targeted, evidence based, therapeutic treatment. The provision of counselling, psychological services, human service supports and specific treatment for alcohol and other drug issues.
Psychologist
Psychologists are experts in human behaviour and work with clients to understand their thoughts, feelings, and behaviours. They can help you with mental health diagnosis, relationship problems, grief and loos, chronic pain management, motivation.
After Hours Care
In an emergency dial 000
Dunwich clients
Marie Rose Centre
13 HEALTH 13 43 25 84
Capalaba and Wynnum clients
National Home Doctors Service
13 74 25
Redland Hospital
(07) 3488 3111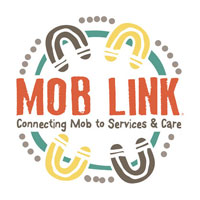 Mob Link
If you are unable to get an appointment with your regular GP, Mob Link can provide services and care online or over the phone.
Mob Link can provide:
Prescriptions for regular medications you might take
Health Advice for all sorts of conditions like coughs, colds or COVID
Medical certificates
Early pregnancy support
Mental Health support and advice